I have been trying to learn more and more varied cuisines from around the world. Something from every continent or culture to help me understand the combinations of ingredients and regional spices. Today it is North Africa and the Middle East. This is a food that I have only very recently had any experience with whatsoever. That is thanks to this great little restaurant called Falafel King. They have as you might guess great falafel stuffed pita sandwiches with tahini and pickles that are way good. Also Shawarma and kebabs to satisfy the meat eaters.
Tonight I wanted to use the grill for maybe the last time before the snow falls. I will still use it after but it is a lot easier to use when you don't have to shovel your way to the damn thing. So tonights menu was marinated lamb kebabs, tabouleh, and an appetizer/amuse of gorgonzola and almond stuffed date wrapped in bacon and grilled.
For the dates I will leave it up to my blogging friend
Kitty
. She has a great explanation on her blogs
Club Kitty Spain - Part 2 - Prep
and
Club Kitty Spain - Part 3 - Let's Eat!
. They are super easy and let me tell you they are delicious.
The kebabs have to marinate for sometime so lets start with those. I used fresh mint, garlic, ground cumin, ground coriander, chile flakes, salt, fresh cracked pepper and fresh grated cinnamon.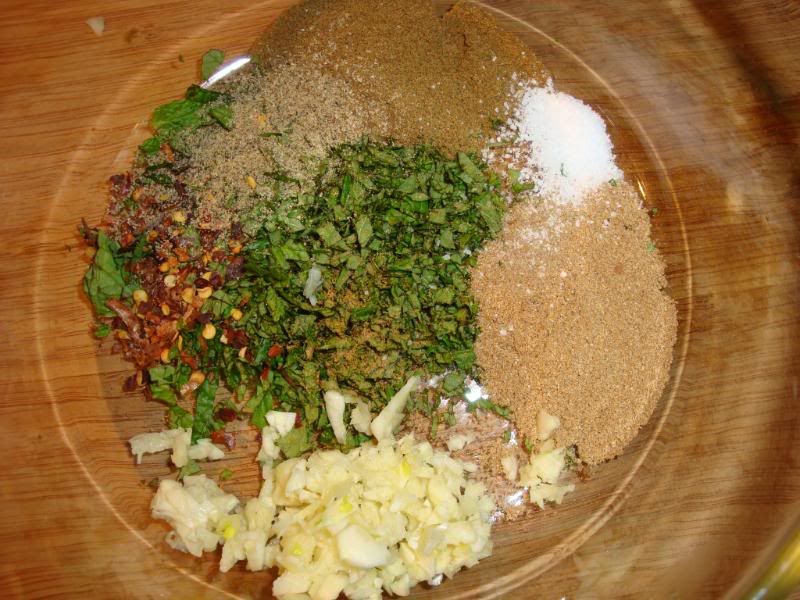 This was mixed with the juice of 2 lemons and about 3 times that amount of olive oil.
Now for the lamb. Again it was the ladies and gentleman at Mr. Prime Beef that came through for me. They had great boneless leg of lamb. I took this thing and carefully cut away the fat cap. Save the fat.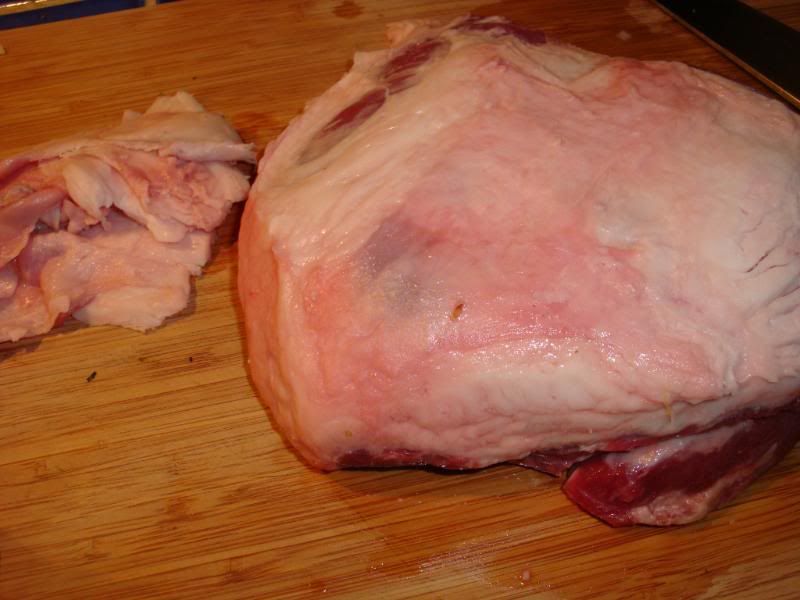 Then take the meat and cut into roughly 1cm x 2cm x 2cm pieces. Like cubes cut in half.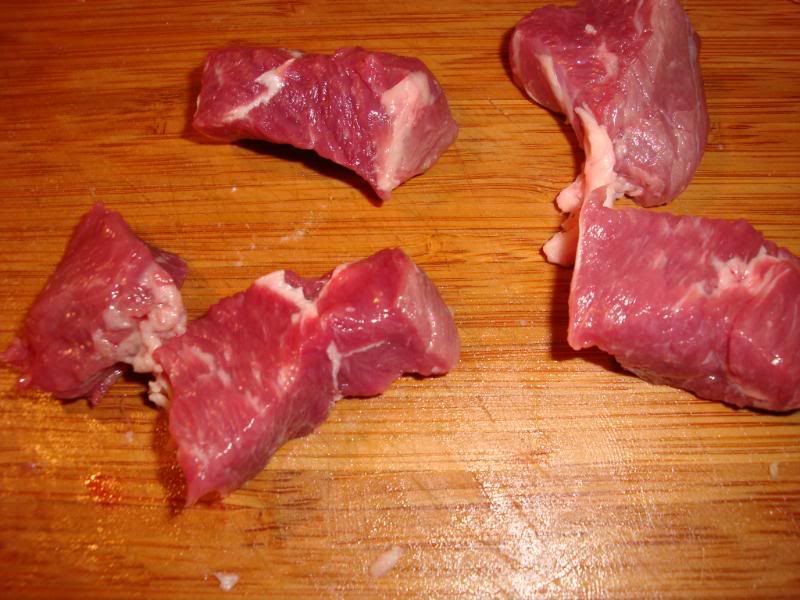 Put all the lamb and the fat into a plastic bag with the marinade.
This goes in the fridge for a minimum of 3 hours.
Now for the tabouleh. Take your bulgur wheat and cover with boiling water. I had about one cup of wheat so I used about 2+ cups of water.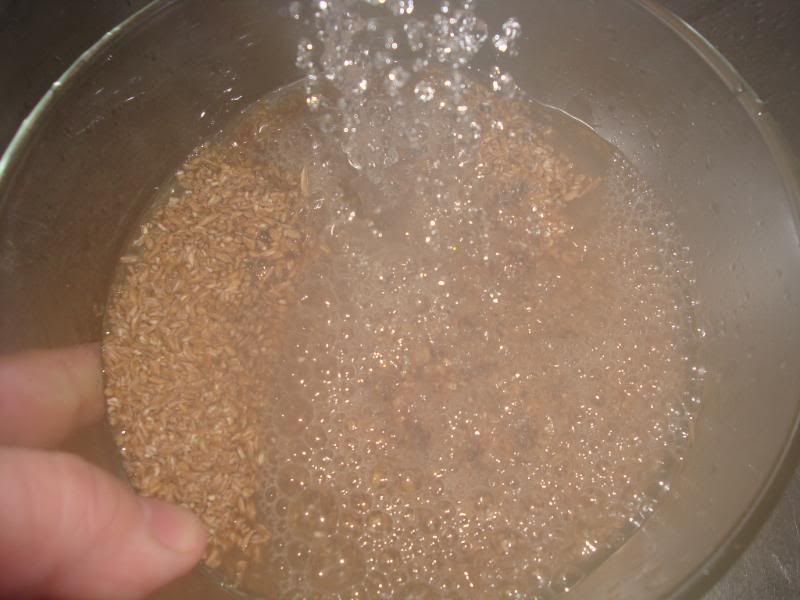 This can soak for about 30-45 minutes. Taste to see that the grains are fully hydrated. Then drain in a strainer lined with paper towels. When most of the liquid has drained. Take the corners of the paper towel and fold over the top. Then lift the package and gently squeeze out the rest of the excess water.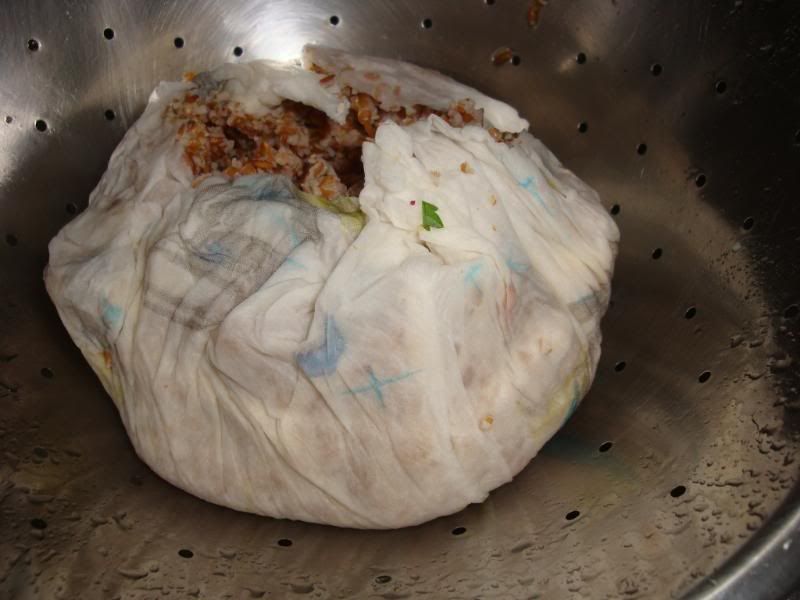 Put into a non reactive bowl. I then picked one whole bunch of Italian parsley and about 7-8 stems of fresh mint. Wash this and then either lay out on paper towels and pat dry or you can use one of these fancy salad spinners.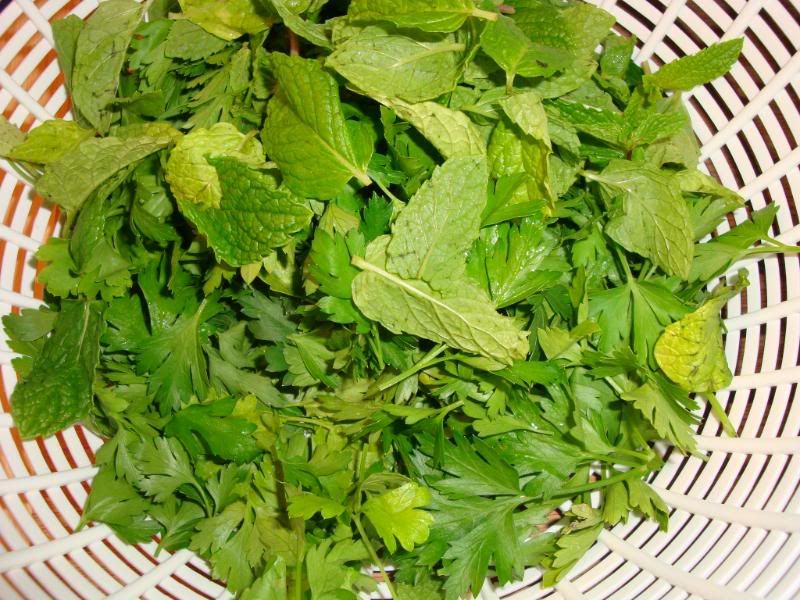 I ran a knife through the parsley and mint.
Then finely dice up a red onion, one seeded and peeled cucumber, and about 4 green onions. Everything goes into the wheat. I then juiced 2 lemons and seasoned that with salt, pepper, cinnamon, and nutmeg. Then drizzled and whisked in olive oil to make a citrus dressing. Pour the dressing into the tabouleh mixture.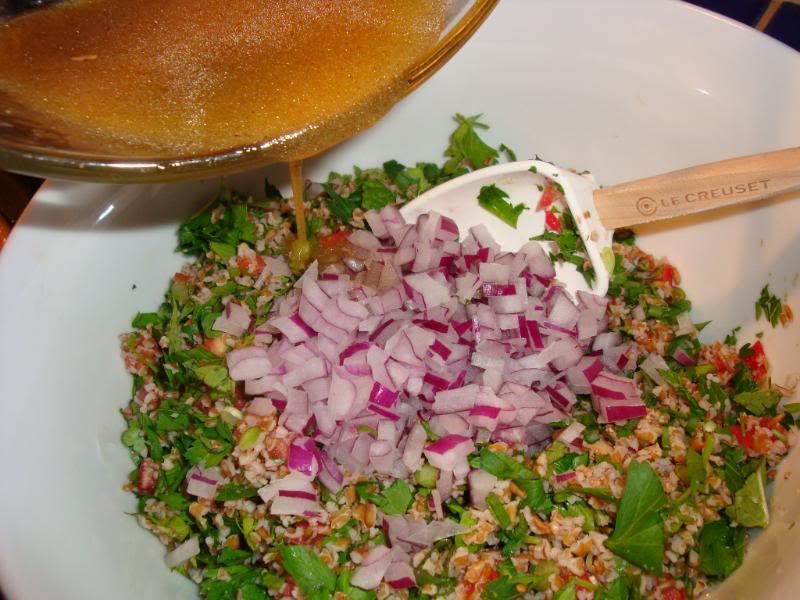 Stir to incorporate and then put into the fridge to allow the flavors to combine.
After your lamb has marinated for at least 3 hours, pull it out and start putting onto water soaked bamboo skewers. While trolling the internet for kebab recipes I came across the idea of putting fat between the pieces of meat. So I did. Piece of lamb and then a small piece of fat. Repeat. The idea is to let the fat keep the lamb moist and juicy. You could also do this with bacon which is always a good idea.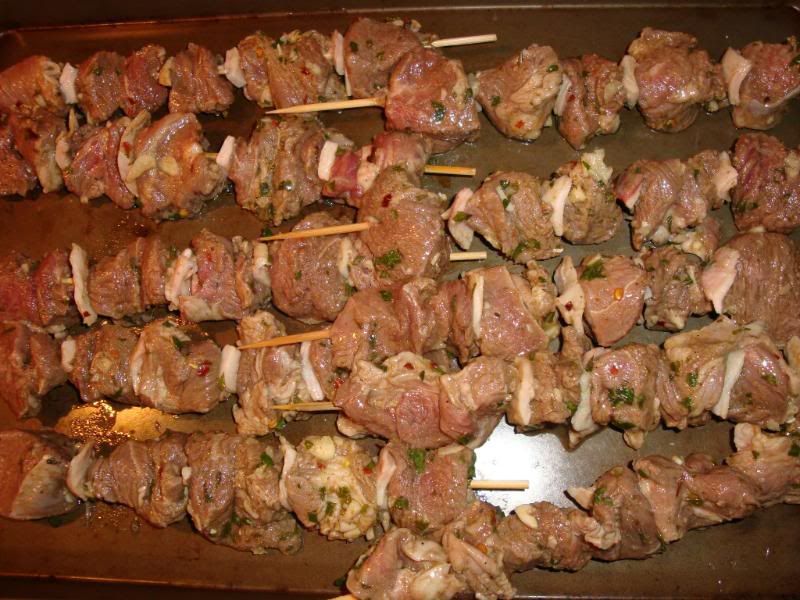 Now toss these on a hot grill and sear. Then flip once and take off when they look right.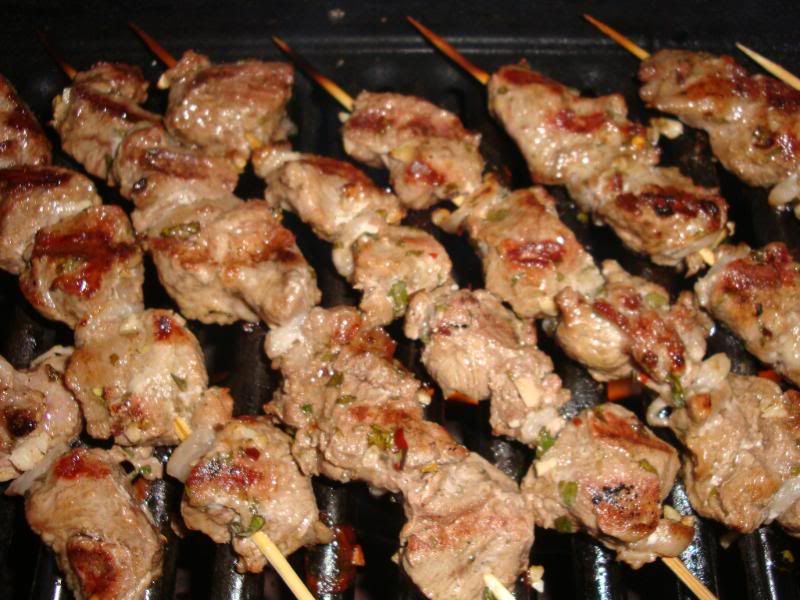 I also put those great little bacon wrapped date things on the grill.
Plating was super easy. A couple kebabs, some tabouleh, and some dates with a garnish of lemon.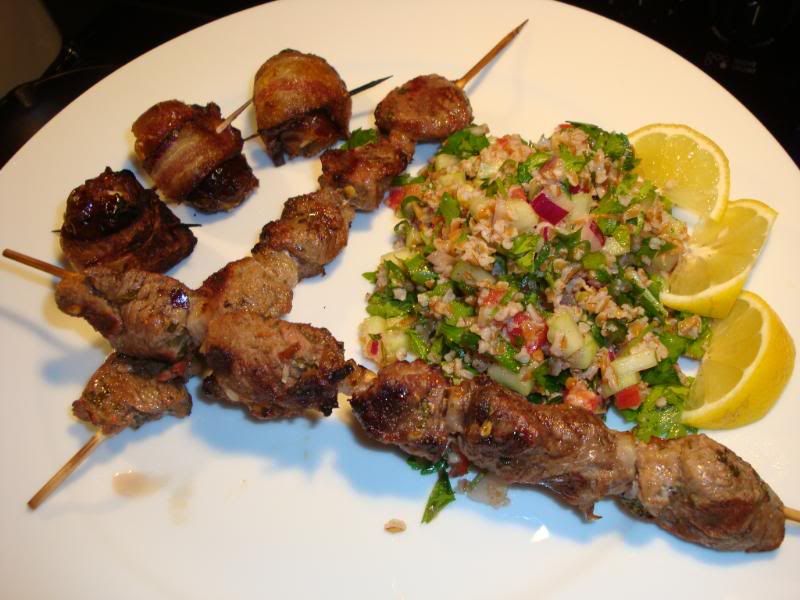 The red onion and cucumber added just enough texture and flavor to the salad to make it hit the spot. Prior to adding those it was a bit "leafy". The kebabs though were delicious from the start. The mix of flavors and that hint of mint are uniquely tasty.
As for the dates, you have to try those damn things. They are a wonderful mix of salty, sweet, crunchy, and creamy. I used tamari roasted almonds and that added even another layer of flavor. Delicious.