The season is definitely changing. There is snow coming lower almost every night on the Chugach mountains. That coolness in the air brings on a taste for a whole different menu selection. So tonight I put together a meal with as many foods from the season as I could squeeze on one plate.
Pork chops seared in duck fat and finished in hard pear cider, sweet potato gnocchi with a gorgonzola cream sauce, and brussel sprouts roasted with deep smoked bacon. How is that for a kick ass meal?
Lets start on the gnocchi. I steamed up two peeled and chopped sweet potatoes.
Cook these until a knife slides in easily.
I set these in the steamer basket up on my kitchen window sill to cool off.
When they are cool, smash with a potato masher or with a potato ricer if you have one.
Now add in an egg and some flour. I started with a 1/2 cup but ended up adding quite a bit more to get the dough to the right consistency. I estimate using about 1 3/4 cups of AP flour after all was said and done. This is my first time making gnocchi so I was unsure of the consistency needed. I made it kind of like a soft orrecchiette dough.
D
ivide the dough into several balls and roll those out into ropes. Then cut those up into small pieces. Use extra flour so that the cut sides don't stick.
Now take a fork and gently roll the tines across the dough balls so as to leave raised edges on the gnocchi. It takes a little practice. I found that placing on ball on my left hand and rolling with the fork in my right. You will get faster as you go. They should look something like this.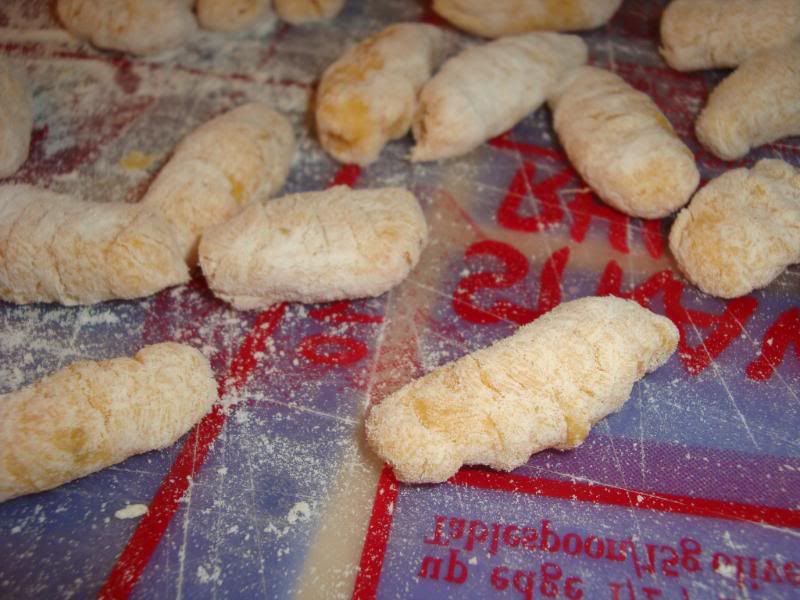 I set these aside to dry while prepping the rest of dinner. Next on the list was cooking some bacon. I got this extra smoked thick sliced at the butcher shop. Isn't it pretty.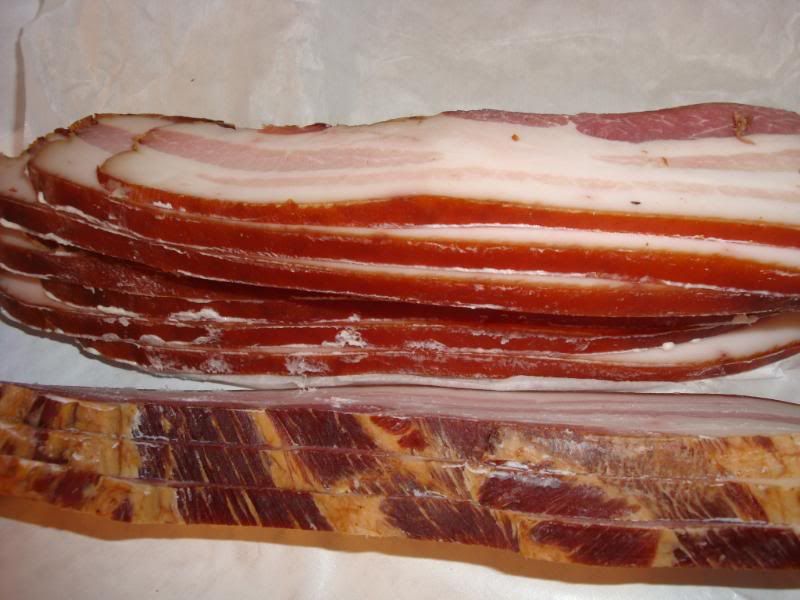 This was cooked slowly over low heat. Then set aside. Save some of the grease. I was unable to find fresh brussel sprouts so I went with frozen. Cut the larger sprouts in half. Toss with the bacon grease and chopped up bacon pieces.
Now everything starts to go fast. I took this oppurtunity to clean up and start some salted water to boil.
Put the sprouts in the oven for about 25 minutes at 375 F. Stir every 8 minutes or so. They will come out looking something like this.
Start some duck fat to heating in a skillet. Season up some THICK cut pork chops. I got these at the same butcher as the bacon, Mr. Prime Beef.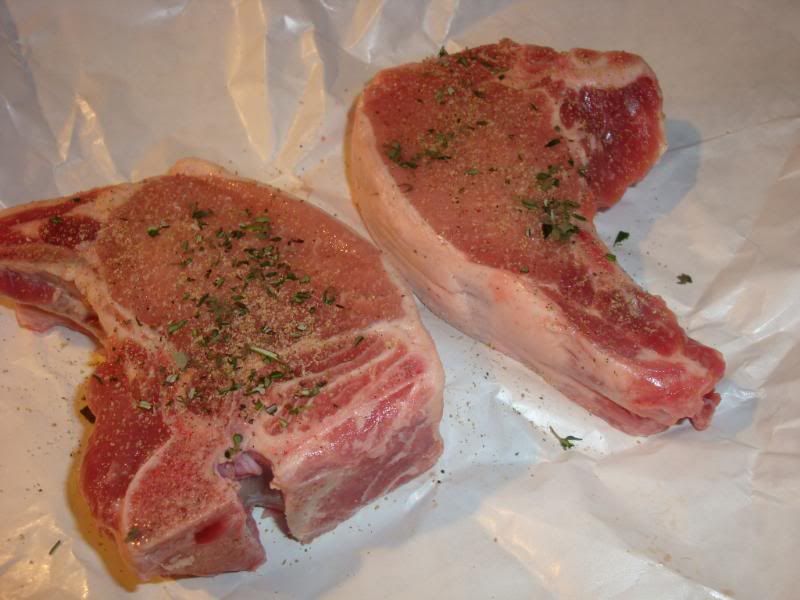 Seasoned these with just a little salt and pepper and some fresh rosemary, fresh thyme, and just a little dried sage.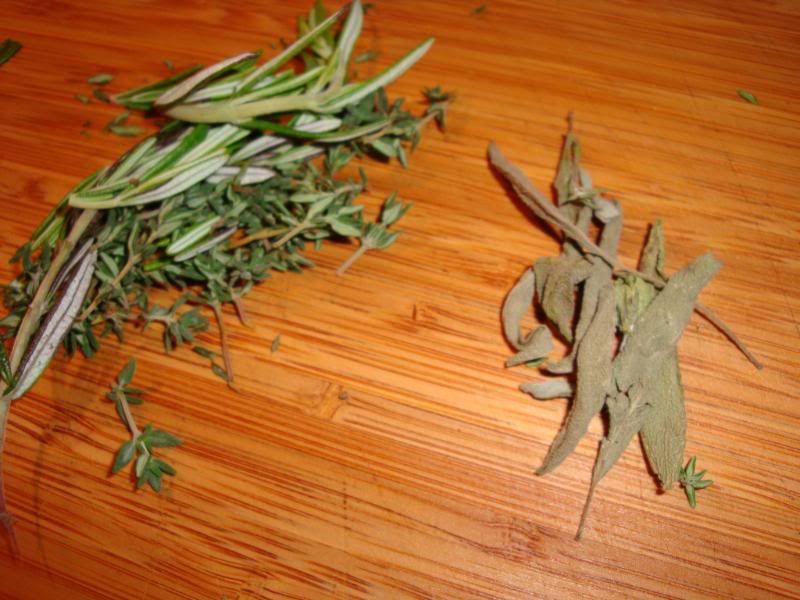 Sear these in the duck fat on high heat to get a nice color.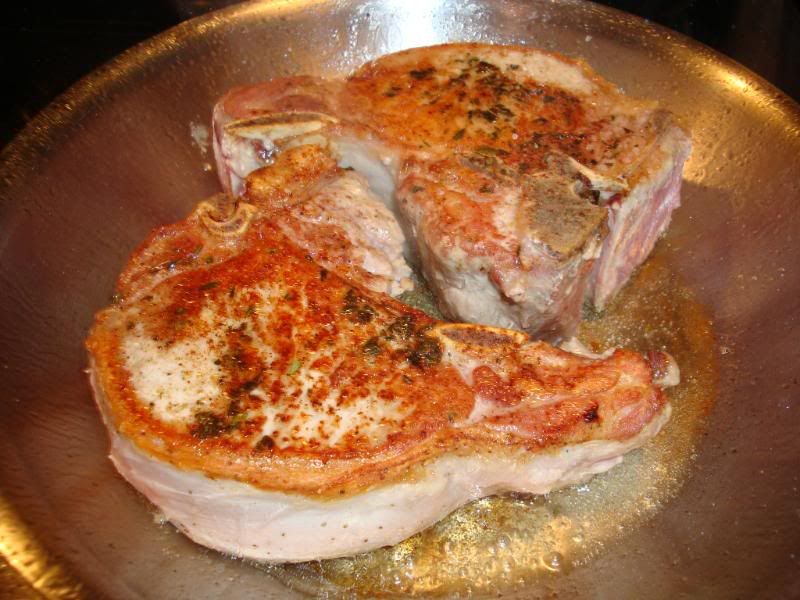 I gave these about 4 minutes per side and then poured in some Hard Pear Cider that I found while looking for the apple kind. Tasty stuff.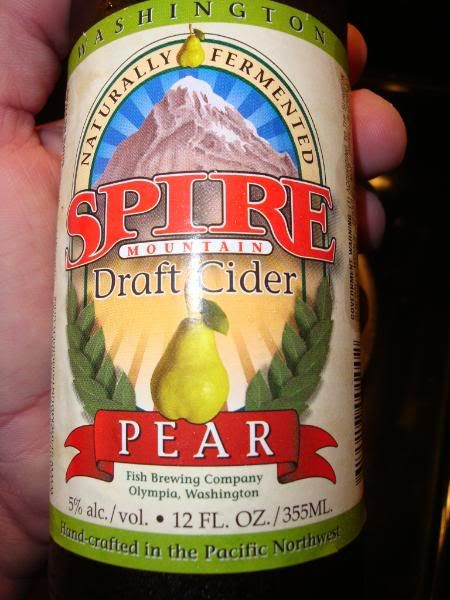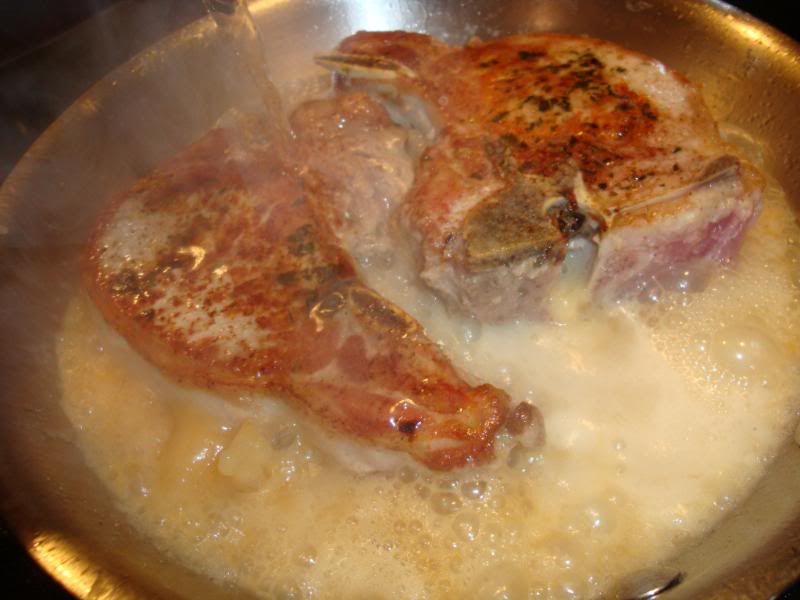 Cover this with a lid and set the heat to low. Let braise for about 10 minutes.

Now is the time to start on the gorgonzola cream sauce. In a sauce pan start some whole milk or 1/2 & 1/2 to warming. Add in a hefty chunk of a good quality gorgonzola cheese.
Season the milk with salt and lots of pepper. Allow the milk and cheese to just barely simmer so as to reduce and thicken.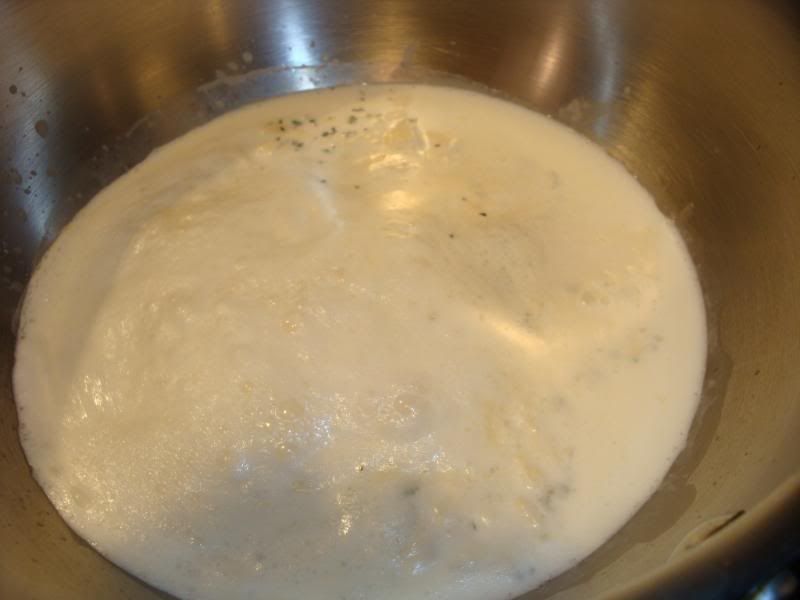 Now pull out your pork chops and allow to rest covered. I pulled out when they still felt medium rare to the touch. The carryover will fully cook them.
Start your pan juices and cider mix to reducing.
Now is the time to toss your gnocchi into the salted boiling water. When they float to the top taste one. They should be little pillows of delicate sweet potato goodness. Pull out with a slotted spoon. I put them right into the cheese sauce. I made too much sauce for the amount of gnocchi but not to worry.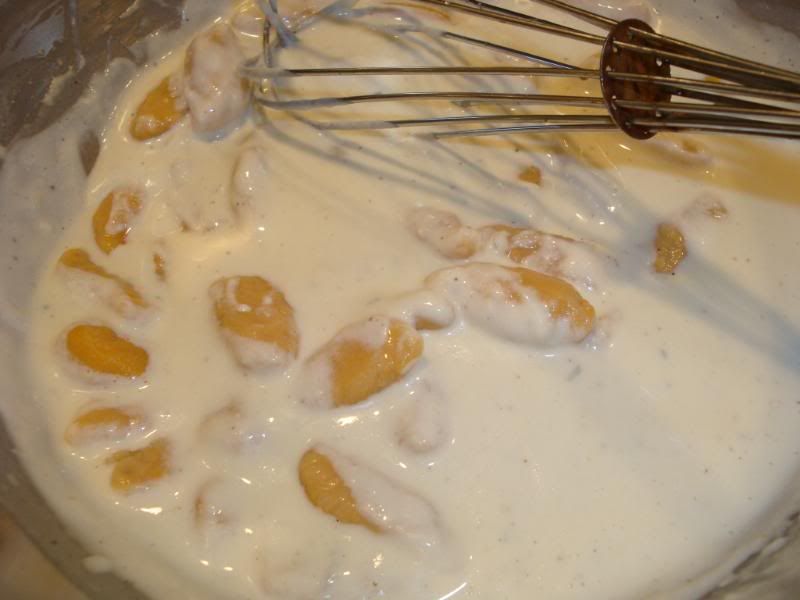 With your pan sauce reduced, add in some whole grain mustard and whisk together. I also added in some of the herb blend and just a bit of fresh Italian parsley.
I used a slotted spoon to get the drowning gnocchi out of the extra sauce. Worked perfectly. Serve with the sprouts and the chop. Make sure to sauce the chop.
Some meals just come together well. This was a lot of work but I gotta say the results were definitely worth the effort. Everything was just as I had hoped. For my first try at gnocchi they came out so delicate and flavorful. You have got to try this meal at least once.